If your ghost from yesterday and the day before is still intact, here is another Halloween fun and kindergarten readiness activity. This time, your ghost needs a friend, either another kleenex ghost or one made from a bit of white fabric and elastic band–or even a small, white sock.
Pour some water into a clear plastic bowl. Tuck one ghost into a clear plastic cup. Have your child put a finger into the water to make sure it is wet. Put the cup with the ghost  in right in the water and watch the water flow into the cup. Take it out, pour out the water and check that the ghost is wet, too. Is it wet? Sure is.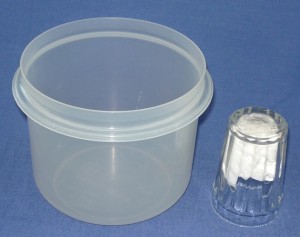 Now, this time, tuck a tissue, fabric or sock into the cup so that it will stay in when the cup is turned upside down. Turn the cup over and make sure that is stays in place. Very, very carefully and slowly put the cup, upside down, into the water. (Hopefully, the ghost  stays in the cup.) Just as carefully, lift up the cup out of the water, turn it over and check again. Is the ghost wet this time?  Why is it still dry? Something happened. Maybe, there was something invisible in the cup. A real ghost?  It's called air.
The air was trapped in the cup when it was upside down and no water could flow in. Take out the ghost and put just the cup upside down into the water, again.  Tip the cup just a little and notice the big bubble of air. Tip it some more so the air escapes and water goes in.
We can't see ghosts, we can't see air. Hmmm? Spooky! Do you know anymore Halloween science?