The Three Billy Goats Gruff Play-of-the-Day
The tale of Three Billy Goats Gruff inspires a variety of fun activities for today's play-of-the-day and encourages us to spend some time outside. Watch out for trolls!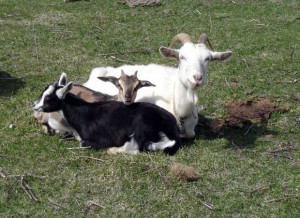 The story of the Three Billy Goats Gruff is a Norwegian folk tale. Three goats (since they are billy goats they are males) called Big, Bigger, and Biggest, have eaten all the grass on their side of the mountain. There's lots of grass on the other side, but to get there they have to cross a bridge guarded by a troll. (In modern versions, it could be a TOLL bridge.) Big Goat tries to cross but is confronted by the troll. He convinces the troll not to spoil his appetite but wait for Bigger Goat. The troll lets him cross to the other side. Bigger uses the same strategy and gets to the grassy side. When Biggest crosses, he butts the troll off the bridge with his big horns and the troll is never seen again. The goats enjoy the sweet green grass and rest in the sun. (Unfortunately, we can't do the same with tolls.) In some versions, the goats are called Little, Medium, and Big.
When you read or tell this story you get to use different voices for all 3 goats and the troll. Kids love to do the troll voice. Making bridges is an obvious activity. Kids can use blocks, train tracks, Duplo and Lego, and other toys to make a bridge. Popsicle sticks are another option, as are coffee tables that can make a bridge between a chair and a sofa. Kids love to climb all over the furniture, but please use caution to avoid head bumps.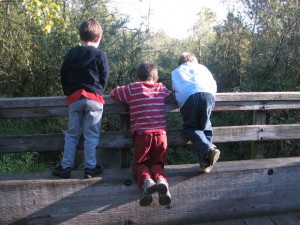 Outside, instead of making bridges, you might be able to go for a walk to find one. Parks will often have wooden foot bridges over little streams and creeks. Kids can run across the bridge and back. They might like to stop in the middle and check out the water below. If possible, they can tuck a few rocks in their pockets to drop over the side. Do the rocks make a splash? What kind of sound do they make? Are there any ripples to see? Did you wake up the troll?