To celebrate World Read Aloud Day, grab a book, invite a kid or two to your lap, and read.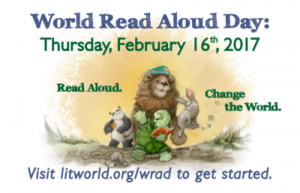 Here's a poem in the style of Dr. Seuss for inspiration:
TAKE IT AWAY, WORLD READ ALOUD DAY
Today, around the world, for all
Will you hear this reading call?
Will you read aloud today?
This is World Read Aloud Day!
Any favorite story or book,
New or old, take a look,
Then say the words so we can hear,
Say them, say them, loud and clear.
In a car or on a boat,
In pajamas or a coat,
On the sofa or in bed,
Say aloud the words instead.
Should you? Could you? Yes, of course.
Read aloud with lots of force.
Do not mumble neither grumble,
Whisper softly, barely speak.
Let's read aloud in any place,
Oh yes, even outer space.
Far and near, up and down.
On the farm, and in the town.
We are reading to each other,
We are reading all together.
This is World Read Aloud Day.
Enjoy the sound of the voice,
Reading from a book of choice.
No, not one, but oh so many,
Lots and lots, we shall read plenty.
Poem and story, yarn and tale.
We'll read aloud; we will not fail.
On a face, do you see the smile?
Come and listen for a while.
Stay right here and give your ear.
Read Aloud Day is full of cheer!
(by Barbara Allisen aka Mrs.