Awesome Super Galactic Bubbles from Two-daloo
Today needs a bubble activity that's out of this world. Thanks to Two-daloo, here is a recipe for bubble fun for May the 4th be with you. Good thing the ingredients are easy to get in this world but the play is universal.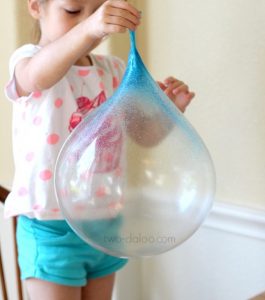 Stephanie, mom and blogger at Two-daloo,  has great explanations for how to make bubble slime. Somehow, white school glue and liquid starch combine to make a stretchy, rubbery material. She advises to start by putting the white glue, liquid food coloring, and sparkly glitter in a bowl and mixing these first. Adding small amounts of liquid starch at a time and working it into the glue is better to get the consistency just right.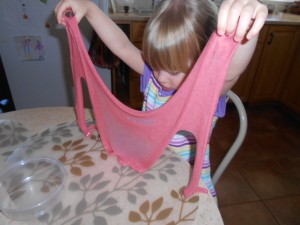 The next step is to break off a small piece of the slime-gak, put a straw into it and blow to make the bubble. This part is like blowing up a balloon, but a bit more tricky, so adult help will be needed. We've made slime several times with glue and borax but it's fairly fluid and spreads out. It's really stretchy too. But we did get a bubble!
We  had to try several times but suddenly, there was a bubble. The bubble kept stretching and stretching. As it stretched it got thinner and longer and we giggled as I tried to lift it higher. It didn't pop but as soon as it touched the counter it flattened out and deflated. It was like making our own balloons. Kneading and working the play dough or gak or slime seemed to make it easier to blow it into bubbles.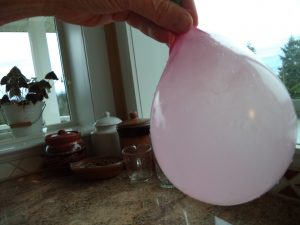 Sensory play is crucial for children's development. In the words of Maria Montessori, "The senses, being the explorers of our world, open the way to knowledge." Children, in particular, engage and interact with the world through their senses. They need to experience what's around them on a sensory level so they can figure it out. When it comes to bubbles, kids can't see the air they are breathing in and out, but they can see how a bubble grows as they blow.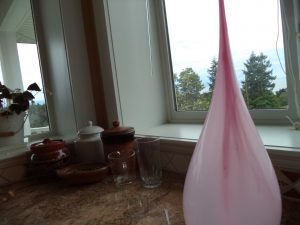 Kids will have lots of fun squeezing, squishing, rolling, stretching, patting, and digging with this sort of play dough, gak, or slime. Are you and your child up for some bubble fun for May the 4th?