Did your family make a happy joy jar for the year? These are jars filled with ticket stubs, bits of paper from events, photos printed from activities, etc. Then, on New Year's Eve, the family takes some time to look at all the fun that happened in the year.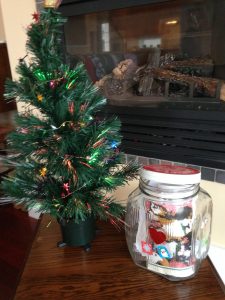 We're still not really good about remembering to write down and pop in reminders but we're getting better. Each year it's so much fun to look back on what we've done. For a whole month, Great-Grandma came in the summer and every day it seemed we did something special. There's a bit of baby fabric tucked in for the new baby cousin that arrived in late November. Even though we all had birthdays to remember, only one candle is in the jar. Great-Grandma and Little Sister have birthdays on the same day. Having her here was extra special. The candle does help each of us though remember our birthday.
A favorite adventure in the summer is the Fairy Garden display. The photo shows what it looked like, but to capture the magic of the event we need the words. This same wonderful Gardens and Nature at the College also has a winter display of lights in the woods. My favorite is the rainbow flowers made with recycled plastic bottles. We didn't need our umbrellas for that this year, although we did remember a couple of camping trips where we had to stay home because of the rain. Big Sister and I included the picture of a rug hooking craft we finally finished. It took over a year and we are grateful it's done.
Making a happy or joy jar is so easy to do. All you need is a big jar and a space on a shelf. It helps to have the jar right out where it's easy to see and use. Whenever something happens that's exciting or eventful, pop in a reminder like a note or a drawing. Keep adding to the jar all year long. On New Year's Eve or New Year's Day, take out the jar and experience that wonderful time all over again. Kids can draw pictures of whatever it is and, if needed, adults can write down the words.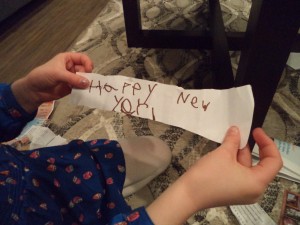 These jars help strengthen the bonds we share as a family. The memories give the young hearts a sense of belonging. This year maybe we'll add something new—some wishes for the new year coming up. Perhaps another name for this New Year's Eve Happy Joy Jar could be Roots and Wings?