Star Wars space craft could travel at lightspeed and these Star Wars straw rockets are much slower but still faster than the eye can follow. They are easy and fun to make and wonderful for playing.
To make the Star Wars straw rockets, you will need paper, scissors, tape, and a straw. Cut a sheet of regular, photocopy paper in half along the hamburger fold. (If you fold a paper in half to make 2 long skinny sections, that's the hotdog fold. If you fold it to make 2 wide rectangles, that's the hamburger fold.)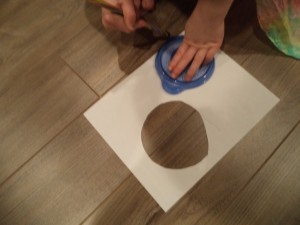 On one half, kids can trace around a small jar lid to make 2 or 3 circles. With the other half, kids carefully roll the paper around the straw 3 or 4 times. The excess can get cut off and then the paper on the straw attached together with tape. Adult hands might need to start the rolling so the paper stays down. Check to make sure none of the paper is taped to the straw.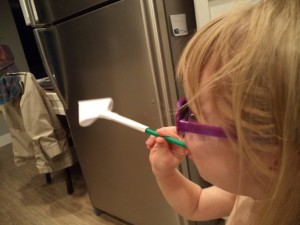 Make sure the paper is at the edge of the straw. If possible, kids cut out the traced circles. Fold a circle in half and place over the end of the straw. Tape it to the paper rolled around the straw. Now, for the fun part. Take a deep breath, close mouth around the other end of the straw and blow. What happens? Did anybody see the straw shooting off the end? (If the rocket doesn't go, check that kids aren't holding the paper part on the straw. Fingers only touch the plastic straw, not the rocket.)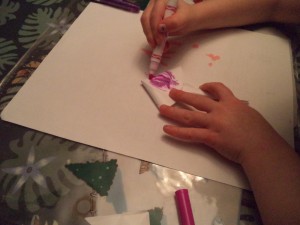 We made several of these and the kids colored them too. Once, testing it out, a rocket got Little Sister in the knee. After that, she decided the game was to try and blow the rocket far enough to land on a person instead of the floor. She could barely close her mouth for laughing. Big Sister enjoyed trying to make rockets land on various pieces of furniture. There was some adult help to make the rockets, but the play was definitely self-directed.
Sometimes, an idea we think kids will love, doesn't seem to appeal to them at all. This project looked great and, as it turned out, was a big hit with the kids. Little Sister laughed with glee as she played. The rocket didn't fly off each time but she still giggled. Isn't it great when kids really engage?